These are a few rare photographs that I happened to come across this morning. They depict some of the most important moments in the history of India.
Nehru and Gandhi at AICC meeting in July, 1947.
Gandhiji addressing a mass gathering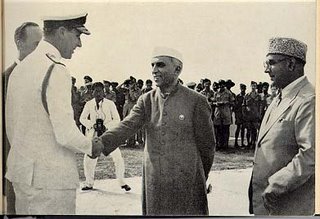 Nehru and Liaquat Ali receive Mountbatten at the Delhi airport on March 25, 1947
Mountbatten swears in Nehru as the first Prime Minister of India on August 15,1947.
TRAIN TO PAKISTAN; India 1947. Trains packed with refugees - Hindus and Sikhs headed for India, and Muslims headed for Pakistan - were convenient targets for gangs of killers on both sides of the border. Inadequately protected 'Refugee Specials' were typically stopped, and the occupants butchered, several times in the course of the journey.



The dead Punjab, 1947.



1948: The news of Gandhi's assassination hits the streets. A stunned crowd gathers in Calcutta (Now Kolkatta).

1948: Crowds in New Delhi wait for a glimpse of Gandhi's funeral procession

A Library being divided at the time of partition, when people needed to hold hands and be united.
1971: Indira Gandhi reviews the troops, in the context of the military and diplomatic preparations for the Bangladesh War.